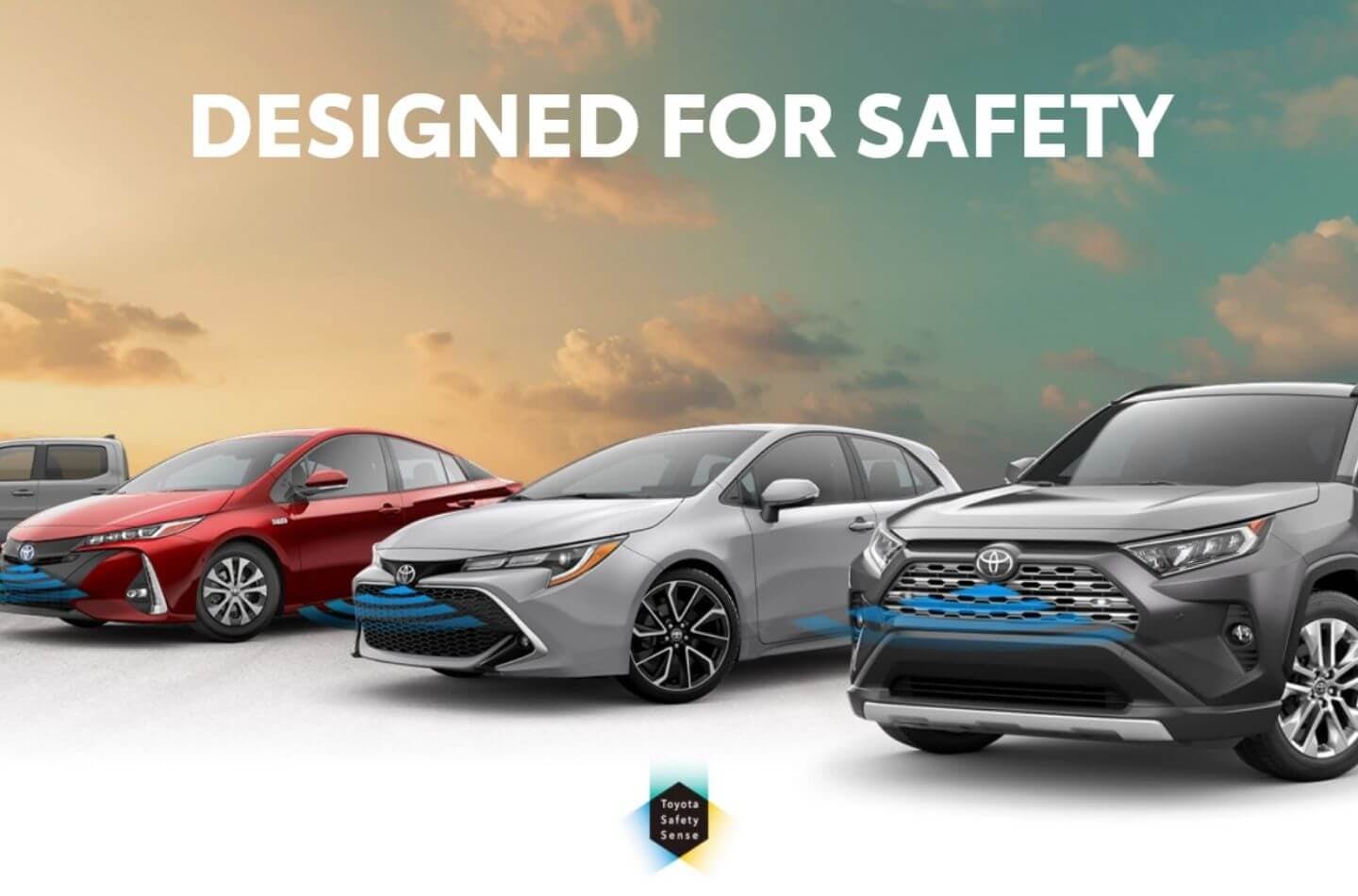 Toyota Safety = Better Outcomes
In unfortunate situations, we are fortunate when everyone is safe. At Cedric Theel Toyota, we care about the safety of everyone on the road. Toyota has award-winning safety features and we are proud to offer vehicles with safety in mind.
Toyota Safety SenseTM (TSS) helps protect drivers and passengers in many different situations. These TSS features come standard on many new Toyota's.
Pre-Collision System with Pedestrian Detection
Using camera and radar, the system is designed to brake automatically to mitigate or avoid impact with another vehicle or pedestrian.
Dynamic Radar Cruise Control
With this feature, you can drive at a preset speed and use vehicle-to-vehicle distance control to maintain your distance from the vehicle in front of you.
Lane Departure Alert
When detecting white or yellow lane markings, this feature will offer and audio/visual warning. The alert is also designed to gently correct your steering to keep you within the lanes.
Automatic High Beams
This system is designed to help you see more clearly at night and helps to detect the headlights and taillights of other vehicles, to automatically toggle between high and low beams.
Lane Tracing Assist
Lane markers become detectable to help you stay centered in your lane.
Road Sign Assist
Using an intelligent camera, this feature is designed to detect speed limit signs, stop signs, Do Not Enter signs and yield signs, displaying them on your screen.
When the unexpected occurs, you can have peace of mind with Toyota's Safety Connect. The Toyota Response Center is available 24 hours a day, 7 days a week by a simple push of a button.
Automatic Collision Notification
24/7 response center automatically notified if an airbag deploys or a severe rear-end collision happens. An agent will attempt to speak with the driver and passengers, then notifies local emergency services to request dispatch to the vehicle's location.
Emergency Assistance Button/ Enhanced Roadside Assistance
The Emergency Assistance button connects you with a 24/7 response center agent who can request dispatch if there is an emergency on the road. You can also connect with 24/7 Roadside Assistance, which lets you know that help is on the way.
Stolen Vehicle Locator
If your vehicle has been stolen, immediately file a police report and notify our response center so agents can assist authorities in locating your vehicle using GPS technology.
We are fortunate for Toyota's safety features that activated during this accident, resulting in everyone walking away safely. The Pre-Collision System kicked in during the accident causing the vehicle to stop before rear ending the vehicle in front of them. Safety Connect also activated and emergency services were on their way to the scene within minutes.
Back to Parent Page