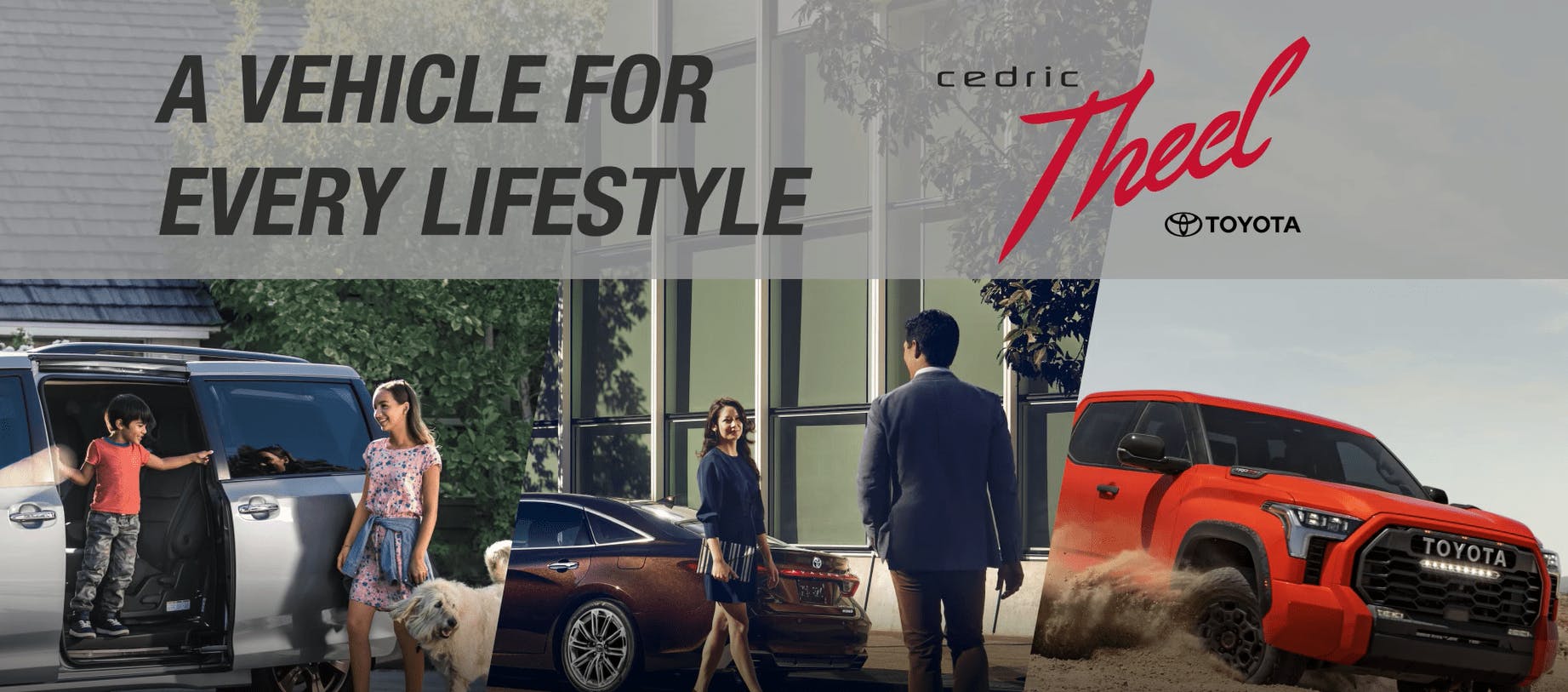 A Toyota for Every Lifestyle
You deserve a quality vehicle that you can depend on for safety and reliability. Explore all the options Toyota has with cars, trucks, and SUVs that fit different lifestyles. Toyota creates vehicles for dependability and safety in mind that look stylish too. We are going to dive into each of these vehicles and how they fit different lifestyles.
Toyota Cars and Minivan
There is a Toyota car for everyone! Whether you're looking for a compact car to quickly get places or a larger family car, you can rely on a Toyota.
The Prius sets the standard as a modern-day hybrid with impressive fuel efficiency and ample cargo space. From city streets to mountain highways, you can navigate all roads with style and confidence with an all-wheel-drive option.
Learn more about the Toyota Prius.
The Corolla takes fun to the next level with its sleek, sporty style. Its lower ride height is purposefully designed to give it a responsive and energetic drive with just the right amount of room.
Learn more about the Toyota Corolla.
The Camry is a mid-size sedan with available All-Wheel-Drive capability. It is engineered for optimized handling and ride quality for a comfortable commute.
Learn more about the Toyota Camry.
The Avalon is a full-size sedan with exceptional rear shoulder, knee, and head room. Its clean, modern style gives a sense of luxury and comfort.
Learn more about the Toyota Avalon.
The Sienna is Toyota's only minivan. Its style on the outside with functionality inside, makes it perfect for many lifestyles. Loaded with features, the Sienna is a popular minivan for families and also comes with an all-wheel-drive option.
Learn more about the Toyota Sienna.
Toyota Trucks
There are two options for Toyota trucks. Both are solid, reliable trucks and offer significant capabilities on and off the road and can be used for hauling equipment or multiple passengers.
The Tacoma makes your off-road adventures possible! If you are hauling a boat or off-road vehicles, the Tacoma offers power to do that. The smaller engines in the Tacoma help save on your fuel budget and are built a bit smaller to help fit in smaller garages.
Learn more about the Toyota Tacoma.
The Tundra is Toyota's only full-size pickup and features a bit more pulling power than the Tacoma. There is plenty of space on the inside of the Tundra and in the different size bed options.
Learn more about the Toyota Tundra.
Toyota SUVs and Crossovers
An SUV or crossover can be suitable for many different lifestyles. From two rows to three rows or bucket seats to bench seats, you're sure to find something that fits your needs.
The first-ever 2022 Corolla Cross sleek, compact SUV is sure to grab your attention. Inside, there is ample headroom and the ability for the rear seats to fold down to create more space.
Learn more about the Toyota Corolla Cross.
The Rav4 is a perfect combination of sport and utility, making it a great SUV for many lifestyles. The multi-terrain select lets you choose between four modes to enhance traction on different surfaces.
Learn more about the Toyota Rav4.
The Highlander is perfect for running errands around town or venturing out to the countryside. The V6 engine, versatility, and space make it perfect for all adventures. The third-row seating makes room for more passengers.
Learn more about the Toyota Highlander.
The 4Runner has been the choice for a full-size off-road SUV for more than 35 years. You'll get a smooth ride in town but it's truly meant for off-road. With many off-road technologies, you'll be able to explore the toughest terrain.
Learn more about the Toyota 4Runner.
The toughest, most capable full-size SUV, the Sequoia, is being completely re-designed in 2023. With luxury and horsepower, Sequoia's exclusive 6-in. sliding third row leaves plenty of room for everyone to enjoy the outing.
Learn more about the Toyota Sequoia.
The elegant, tech-focused, all-hybrid Venza is set apart from other crossovers. There is comfort in every detail and stunning from every angle.
Learn more about the Toyota Venza.
Toyota's All-Wheel-Drive (AWD) and 4-Wheel-Drive (4WD) vehicles offer the latest technology and active safety technology that comes standard. There are a wide range of options from cars to trucks to SUVs. You can enjoy the performance of an AWD vehicle without sacrificing space.
Toyota AWD/4WD Vehicles at Cedric Theel Toyota:
Tundra

Corolla Cross

Camry

Venza

Rav4

Sequoia

Avalon

Prius

Sienna

Highlander

4Runner

Tacoma
Toyota's expanding hybrid lineup aligns with Toyota's brand's goal of a clean environment. Hybrid vehicles are a mix of gas-power and electric-power that work seamlessly in conjunction with each other, making them extremely fuel-efficient. Gas-powered vehicles are efficient, but can entail higher fuel costs and more emissions. Electric-powered vehicles cut down on fuel and emissions, but may not be as convenient with the need to be charged. That's why hybrid vehicles are the best of both worlds – less emissions, savings on fuel costs, no need to be plugged in.
Toyota Hybrid Vehicles at Cedric Theel Toyota:
Tundra

Corolla

Camry

Venza

Rav4

Avalon

Prius

Sienna

Highlander
Are you ready to become part of the Toyota family? Or, are you ready to move into a different Toyota that better suits your current lifestyle? At Cedric Theel Toyota, we are certain we can help you find a vehicle you love.
Check out the new vehicles we currently have and the ones on their way: https://www.cedrictheeltoyota.com/new-vehicles/. Don't see what you want? Contact us to discuss what you're looking for and we can help you.
Back to Parent Page